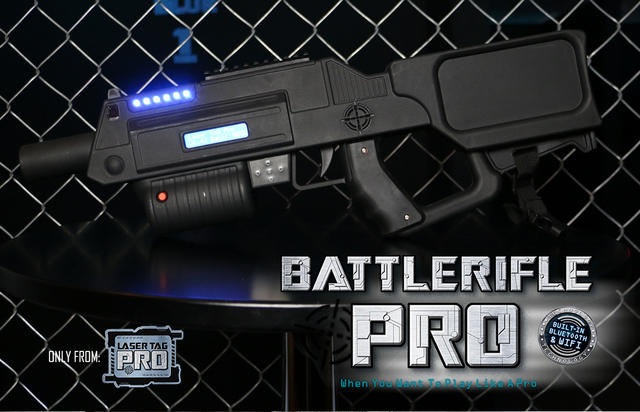 Battle Rifle Pro Platinum Series w/ Game Coach - 90 Minutes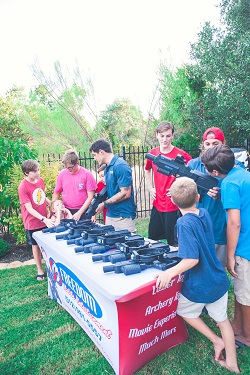 Don't Worry, We Got This! If you want a skilled Freedom Fun coach to handle all the details of your event, this is the perfect package. You'll get the same "over the top" communications before and up to the big day plus a game coach to concierge the event.

Your package includes: 10 Battle Rifle Pro Laser Tag guns, 4 inflatable super barricades & laser tag music via blue tooth speaker. Get ready for coached scenarios like elimination, free for all, VIP & more!
Easily sets up in small backyards, parks, indoors, conference rooms, gyms & more
Entertain lots of guests at a great price!
A 10 gun package can easily entertain up to 30 kids per hour with multiple rounds via rotation & tournament style play

matches can be programmed to last just 6-8 minutes which allows for plenty of action for all players

You can still request to add extra guns in your cart or calling and talking to one of our team members.
What does a laser tag event look like?
We arrive approximately 45 minutes before your event start time & set everything up for the games & provide a 10 minutes orientation for the participants, who are introduced to our laser tag equipment, quick training session and short review of respect, honor and the "Laser Tag Code of Conduct"

It's important to ensure guests try and arrive on time so our coaches aren't having to repeat instructions or go back thru the safety briefing – some of our customers actually communicate an earlier start time to their guests so everyone is sure to be there.

After the orientation, the games begin!

The Game Coach orchestrates a variety of games. This way everyone gets plenty of playing time, rest, and water breaks if needed (be sure to have plenty of water on hand).

When we're done, your guests can head inside for cake or to open presents while we take all equipment down and pack up.