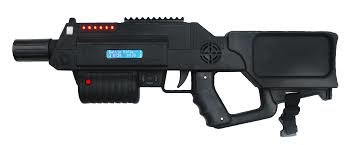 Extra Battle Rifle Pro Gun
The Battle Rifle Pro is the latest innovation in laser tag and is setting a new standard in the laser tag
industry
Used for indoor and outdoor play the Battle Rifle Pro is quickly becoming the premier choice for players of all ages
Lightweight & Durable!
The Battle Rifle Pro 22.5 inches long and made of a nylon reinforced fiberglass polymer that is extremely durable yet light weight(2.4 lbs), making it easily handled by all player.

Seriously Fun, High Tech & Equipped for Play!
It comes fitted with a rubber hand grip for maximized comfort and a red dot scope on the top rail. A built-in gun sensor allows for quick turn over games.

Our visual health indicator allows players to quickly see the status of their life. The new swap-able battery pack makes sure your equipment never runs out of juice. A responsive trigger, reload button, and directional buttons make navigating menus and changing setting a breeze. The larger LCD display allows you to see all the necessary information on your unit and show players their scores. The Battle Rifle Pro is loved by players young and old.