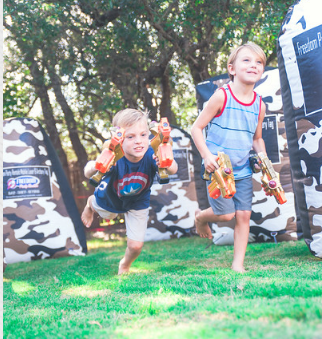 The Freedom Phoenix w/Game Coach - 90 Minutes
This coached laser tag package is our popular entry level Freedom Phoenix package which includes 10 Phoenix LTX Laser Taggers, 4 Super Laser Barricades, Blue Tooth Speaker for playing cool music & a table.

How does a laser tag event look like?

We arrive approximately 45 minutes before your event start time & set everything up for the games & provide a 10 minutes orientation for the participants, who are introduced to our laser tag equipment, quick training session and short review of respect, honor and the "Laser Tag Code of Conduct" . It's important to ensure guests try and arrive on time so our coaches aren't having to repeat instructions or go back thru the safety briefing – some of our customers actually communicate an earlier start time to their guests so everyone is sure to be there. After the orientation, the games begin! The Game Coach orchestrates a variety of games. This way everyone gets plenty of playing time, rest, and water breaks if needed (be sure to have plenty of water on hand). When we're done, your guests can head inside for cake or to open presents while we take all equipment down and pack up.